Last Updated on November 14, 2022 by acechapman
You might find a toilet with a strange rough-in size, such as 16 inches, in an old house or because of a construction error. Toilets are only available in rough-in sizes of 10, 12, and 14 inches. What do you do with a 16-inch toilet rough-in? In this post, we'll discuss solutions for people who have 16-inch rough-in toilets.
Solutions for replacing 16-inch rough-in toilets
Move rough-in up to 12 inches
You can make your rough-in standard size if you have access to the plumbing. You'll be able to find a 12" toilet that suits your needs at a price you love if you reduce the rough-in size to 12 inches. You'll have more legroom if you have a small bathroom than if you install the 14" rough-in toilet on a 16″ rough-in. You can also install a smaller toilet to save space if you have a small bathroom, as many older house baths do.
This may not be possible or practical for everyone. The toilet flange was likely set at 16 inches. Most likely, there was a floor joint that prevented the flange from being placed at a greater distance.
Install TOTO Vespin II toilet with 14" Unifit adapter
If moving the rough-in is difficult or impossible, you can install a 14-inch toilet. The Toto Vespin II toilet is a great choice of a 16-inch rough-in toilet out of all the options.
It's the shortest and most cost-effective 14" rough-in toilet available. It is only 28.5 inches in length and can be installed on a 14-inch rough-in with the UniFit Trapway adapter. The distance from the toilet bowl front to the wall is 29 inches. It measures 31 inches from the bowl's front to the wall when installed on a 16″ rough-in. It takes up no more space than a standard 12" rough-in toilet.
Other 14-inch rough-in toilets are made by American Standard, Kohler, and others. They are longer than 30 inches. They measure 32 inches from the toilet bowl front to the wall when they are installed on a 16-inch rough-in. Vespin II offers more legroom and space savings in front of the toilet that any other 14′" rough-in model.
You may be able to pull the toilet further towards the wall if the flange drain hole in the toilet is too large. This will reduce the distance and length of the Vespin II.
The gap isn't much larger than standard rough-in toilets. There are other benefits to the gap. It prevents mold growth on the wall, as well as tank sweating and dripping. It makes it easier to maintain a clean and beautiful toilet.
Keep in mind that 14-inch rough-in toilets can be 12-inch rough-in models. They have a thicker tank to cover the gap between the wall and the tank. The bowls often project forward from the toilet flange. Toto toilets that use the UniFit adapter are the only ones that can adjust the toilet's position.
Install a 14-inch rough-in toilet
A normal 14-inch rough-in toilet is the next option for a 16" offset toilet. For 16 rough-ins, 14-inch toilets work well because they reduce the projection of the toilet in the room and the space behind it. There are very few 14-inch rough-in toilets available in the United States, so you have a limited selection. Below are the 14-inch rough-in toilet models as well as their suitability for this issue.
Kohler offers several 14-inch rough-in toilet models. One of these is the Kohler Wellworth K-39947-0 14″ rough-in toilet. They also provide the Kohler Highline Comfort Height 1.28 GPF Toto K-3949-0 14-inch Rough In the toilet.
These 14 rough-in toilets from Kohler are also designed to accommodate rough-ins less than 14 inches. Kohler Wellworth can fit a 13-1/4-inch rough in. A similar applies to other brands. You might have a gap of well over 2 inches when you install a 14-inch without checking the gap.
Build a 3-foot wall behind the toilet
This is an ingenious, and much cheaper, solution. Install a 12-inch standard rough-in toilet instead of searching for larger rough-ins. Then, build a 3-inch thick wall and 3 feet high wall behind the toilet to fill in the gap of 4 inches between the tank and the wall. It was beautiful and harmonious. You can use the wall top as a ledge shelf.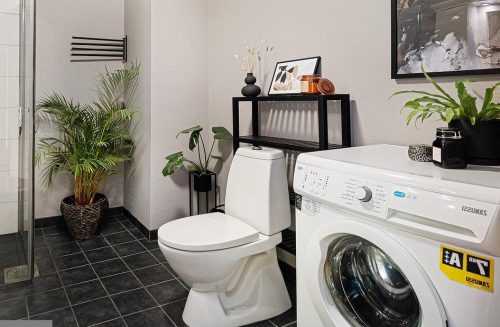 Install an Over The Toilet Storage Cabinet
You can install a cabinet/rack above or behind your toilet to solve the 16-inch rough-in problem. Also, you can install a rough-in toilet 12-inch high and make use of the space for other purposes. You can even find ready-made racks and cabinets for over-the-toilet storage online.
These racks and cabinets are designed to fit around standard-sized rough-in toilets. They are perfect for hiding the gap between the tank & wall in 16-inch rough-in toilets.
Because of their space-saving capabilities and convenience, over-toilet storage solutions have become very popular. You can choose from inexpensive racks or more expensive cabinets.
More options for the 16-inch rough-in toilet issue
Fill Tank-Wall Gaps with Filler
Placing porcelain filler between the toilet tank & the wall can be used to fill in the 16-inch gap created by the shorter rough-in toilets.
Get a separate toilet tank and bowl
The historic High Tank Toilet Perspective is another option for rough-in 16 inches. The toilet tank was originally installed on the wall and separated from the bowl. They were connected by a half-bend toilet valve, which extended from the tank to the bowl. These historic toilets can now be purchased as specialty toilets, the Pacific Style Toilet.
Space issues caused by 16-inch rough-in toilet replacement
You may have enough space for the toilet if you had one 16-inch rough-in. If the new toilet is jutting out more than your old one, you might consider replacing the swinging door with a pocket door. This will significantly increase the floor space available in a small bathroom.
Benefits of the Gap between Toilet Tank and Wall
When installed on a rough-in of 12-14 inches, many rough-in toilets leave a gap between the tank back and the wall. Because many rough-ins are not exactly 12-14 inches, toilet manufacturers created this gap.
There are many benefits to having a gap between your tank and the wall. It is also convenient for cleaning the tank and prevents mold growth. It prevents the tank from dripping or sweating from water condensation.
Conclusion
It is a good thing that you have a 16-inch rough-in. Even though it is unlikely that you will find the right-fitting toilet, you can use any toilet to fit. The simplest option is to put in a rough-in 14-inch toilet. The best solution for the long term is to move the rough-in to 12 inches if it's not too expensive or difficult. A short wall solution is another option, by installing a shelf above the toilet. It will give you more storage space.
Pick A Toilet may collect a share of sales or other compensation from the links on this page.